How To Choose The Right Size Dog House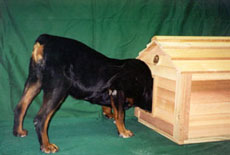 Most often we use a dog's weight to determine the size dog house they will need. It is also important to consider the dog's measurements. Some dogs are tall structured, i.e., Doberman Pincers and Greyhounds, so height requirements are as important a consideration as weight. Ideally, the dog house needs to be just big enough for the dog to enter, turn around, and lie down. Anything dog house larger than that is at your discretion.

During the colder months, your dog's body heat retention is somewhat sacrificed when the dog house is larger. In the warm weather, this will be a benefit. Please keep your geographical location in mind to help you decide which would be more suitable for your dog...a house that is just right or one that will give them room to stretch and move around. Choosing the correct size house ensures the comfort for your dog(s). If you live in a region with severe winters, bigger is definitely NOT better. If your region has extremely mild winters, a house "larger than necessary" does not present a problem.
Use this simple A-B-C method for determining the correct size doghouse. It might be helpful to print out as reference when measuring your dog and comparing to house dimensions.
The door height opening should be no less than three fourths (3/4) of the dog's shoulder to ground measurement. LARGE doors aren't necessary... dogs typically "duck" to enter a doghouse.

Example: If dog's "A" measurement is 19 inches, the door opening needs to be at least 14 inches tall.

The width and length measurement of the house should be the same as or no more than 25% larger than (B), the nose to flank measurement (Tails don't count).

Example: If the dog's "B" measurement is 24 inches, the doghouse width and length should be no less than 24 inches and no more than 30 inches.

The height of the dog house should be at least 25% (no more than 50%) taller than the height of the top of the dog's head to his toes (C). Again, this house measurement (C) can exceed the dog's total height (C) up to 50% and still maintain a good body heat retention factor during cold months.

Example: If the dog's height is 22 inches, then the total doghouse height should be approximately 28 to 33 inches.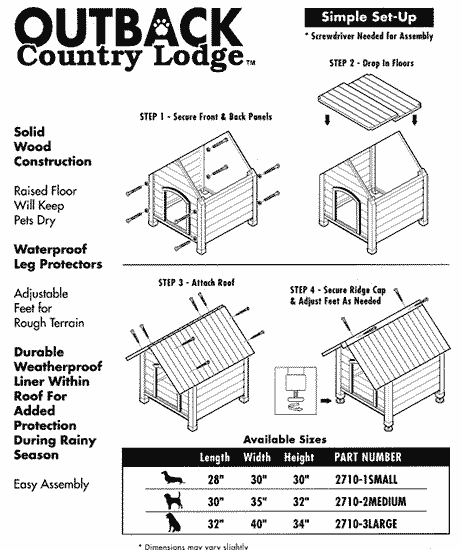 Dog House Do's

Do purchase or build the correct size house for your dog
Do provide your dog with a wood structure dog house (wood is the best insulator known to man)
Do have a total wood roof to reduce the sun's heat and maintain adequate heat retention
Do have an offset door. This provides a windbreak and a cooler spot out of the sun
Do have a door barrier installed during the cold months
Do block up or raise the doghouse off ground for better temperature control and to deter flea infestation.
Do use bedding such as cedar shavings or a dense foam pad that is moisture proof and fleas can't penetrate.
Do put a porch or awning type cover over door opening for extra shade and protection from severe weather

Dog House Don'ts

Don't purchase or build a house too big for your dog, especially in colder climates
Don't put your dog in a plastic house. It's too cold in the winter and too hot in the summer
Don't use asphalt shingles on a doghouse unless it has an adequate insulation barrier between the roof and the living area
Don't obtain a house with the door centered on the front wall. It overexposes your dog to foul weather and direct sunlight
Don't leave doors closed during hot months. Either remove or tie open doors to increase interior ventilation
Don't place house directly on ground where a moisture problem exists or an excessive cold climate is prevalent.
Don't use carpet, fabric, straw, towels or blankets for dog house bedding. Body heat, moisture, and darkness will attract fleas, ticks and fungus